Manicure's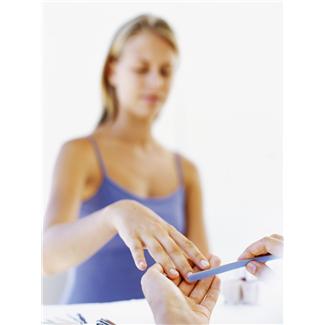 A manicure is one of the treatments available at Flavias Beauty Studio, at probably the cheapest price in the area.
What can you expect during a manicure at Flavias Beauty Studio?
The first step in the manicure will be to sanitize the customers hands and this is followed by removing any old nail polish. Your hands will then be treated to a soak in hot water and a hot water rinse.
Once your hands and nails are nice and supple from the soak, you are ready for the next stage of the manicure. During this phase the nails are trimmed and filed to the length that you wish. The nails are now ready to be shaped. I will then attend to the cuticles, which involves applying cuticle softner and they will then be pushed back with a cuticle pusher. As an optional extra I will then cut your cuticles, depending on your preference for this.
The next step is an exfoliate to remove any dead cells before the massage commences. The hand massage will last for around 10 minutes using a fine, sensitive cream.
To finish I will apply a polish of your choice or you can finish with a French manicure.
It is important to look after your nails regularly, otherwise they will deteriorate and stop looking good.
Keeping your nails to a good standard requires work at the beauty salon and at home. Make sure you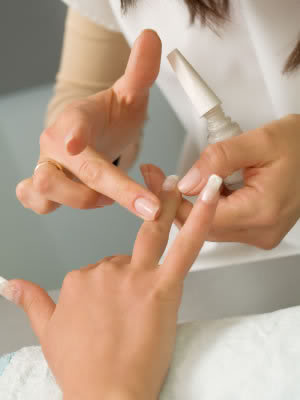 apply nail varnish remover whether you have to remove nail polish or not. The reason for this being, nail varnish remover will help to remove any dirt or grease from your nails.
Try to avoid removing and applying nail polish more than a couple of times a week. If you do this 3 or 4 times a week it make your nails become dry, so if you are in the habit of doing this, try using a nail varnish remover that has a built in moisturizer.
If you give your hands and fingers a massage occasionally you will stimulate blood circulation and good blood circulation will result in good growth of nails.
A French manicure is generally believed to be the best treatment for your nails. If you cannot get to a salon and you are worried about getting this manicure correct you can always use a white nail pencil underneath the tip.
Obviously a regular trip to a beauty salon for a manicure will do all this for you and help keep your nails looking good and healthy. For the time it would take you to take care of your own nails, a great value manicure at Flavias Beauty Studio is well worth the time and money spent and while you visit you can try out my threading service.